As you know from our recent post "Fall Marketing and Sales Taglines" it's finally Fall! Which means it's time for sweaters, bonfires, pumpkin everything, and exciting seasonal campaigns. Fall is a great time to really get out of your comfort zone and try something new and exciting. With Fall being most businesses' slow time it's a great time to try something new. To help inspire you and your team, we've gathered some Fall Marketing Ideas for you. 
5 Fall Marketing Ideas:
Use Fall Themed Taglines
Celebrate Fall Holidays
Launch a Fall Instagram Contest
Sponsor a local sports team
Promote or sponsor a local festival
1. Utilize Fall Themed Marketing Taglines:
Fall is a perfect time to spice up your marketing strategy. One way to do that is using fun Fall themed taglines. Well crafted taglines catch the eye of your audience and draw attention to the CTA. 
However they can do much more such as drawing a smile, creating a laugh, associate with visceral feelings and so much more. When your business can make someone smile or bring back a fun memory, you'll do so much more for your user. 
Taglines help your user associate your brand with something fun, dramatic or if poorly crafted, something spammy or boring. 
Need some inspiration for Fall taglines? Check out our free download "90 Fall Themed Taglines"
This post is a follow up to our last post "5 Fall Marketing Ideas". Since we gave you some great ideas on how to market
Read More »
As you know from our recent post "Fall Marketing and Sales Taglines" it's finally Fall! Which means it's time for sweaters, bonfires, pumpkin everything, and
Read More »
25 Fall Marketing and Sales Taglines Fall marks our favorite time of the year! With everything pumpkin, the colorful display of leaves, bonfires, seater weather,
Read More »
2. Celebrate Fall Holidays
Fall is packed full of our Favorite Holidays…Halloween and Thanksgiving Specifically. One thing every business should be doing is incorporating Holidays into their marketing strategy. It's a great time to release new products, highlight fun contests and festivities, and try something new. Plus, what better way to test out your new taglines than at the holidays. 
People are already invested in the holidays, spending time, money and all sorts of resources on them. So why not get in on the action? 
Need some inspiration for Halloween Campaigns? Check out our free post "Best Halloween Marketing Examples"
Here's a fun Halloween campaign example from Lux featured in our Best Halloween Marketing Examples post.
3. Launch a Fall Instagram Contest
Sometimes the best events are the ones you make…Take an example from Lush North America and their Fall 2020 Contests are an exciting way to incorporate customer engagement and brand awareness. 
Lush took opportunity to spice up the Fall of 2020. Though individuals were not able to get out and trick or treat, Lush found a fun and exciting way to engage with their customers. By incorporating a fun contest they were able to boost engagement and make the quarantine feel a little bit more exciting
This campaign shows what it's like to incorporate social proof to promote engagement and a clear CTA.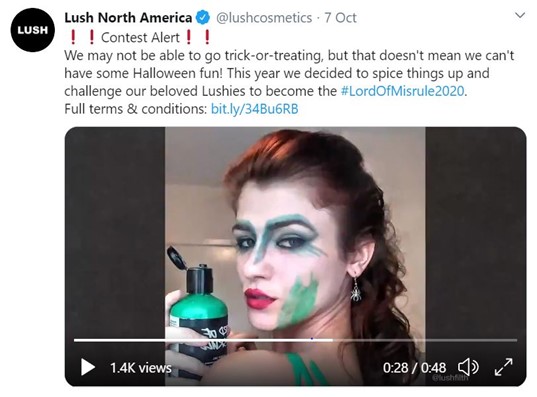 4. Sponsor a Local Sports Team
For many Fall isn't about pumpkin and corny taglines for everyone. For MANY it's all about sports. Ever hear about the Super Bowl ads? Yeah…Sports bring in a huge amount in ad revenue each year. 
However, you don't have to get big and elaborate to take advantage of sports marketing. It can be as simple as finding a local sports team to sponsor. This is a great idea because they often offer cheap logo placements and mentions at games, on calendars, and shirts. While local teams don't bring millions of views, they do bring in a highly motivated and engaged community. 
Sponsoring a local team might get your logo visibility but more importantly allows you to get community engagement and networking. Which goes much further…trust us. 
Not a sports person or unsure where to find a team to sponsor? You can start with a league or federation. Here's just a few:
5. Sponsor a Local Festival
Sports doesn't get you excited? What a bout food, fun games, local music, and people congregated together exploring local activities? Yes? Well good, it should!
Sponsoring a local festival is a fun way to get your brand out there. Just like sports teams, it offers an ability to engage with your local community. Plus, they're a lot more fun to network at. 
Finding festivals is easy…just go to Google and type in "Festivals near me". Many results will pop up. You can easily find them on your state/city's visitor pages, chambers, and other local business pages.