As you know from our recent post "Fall Marketing and Sales Taglines" it's finally Fall! Which means it's time for sweaters, bonfires, pumpkin everything, and exciting seasonal campaigns. With the calming and sweet Fall weather comes also come a spooktacular and well-celebrated time of the year…Halloween. Halloween is a marketing gold-mine. To help inspire you and your team for the holiday season, we've gathered some of the Best Halloween Marketing Examples from across the web.
5 of the best Halloween marketing ideas from across the web:
1. Number one in our book is Hulu's "Huluween" campaigns. See "https://www.hulu.com/huluween"
It combines a fun amount of puns and great content that  connects with their users on a personal level. According to AdWeek "The streaming service reported members viewed more than 6 billion minutes of horror content on the platform in 2019."
They showcased how a timeline and punny ad can relate to excitement and can result to positive actions taken by stakeholders.
2. Lush North America: Beauty and Scary? Boo-lieve it or not number two comes from Lush North America.
They took opportunity to spice up the Fall of 2020. Though individuals were not able to get out and trick or treat, Lush found a fun and exciting way to engage with their customers. By incorporating a fun contest they were able to boost engagement and make the quarantine feel a little bit more exciting
This campaign shows what it's like to incorporate social proof to promote engagement and a clear CTA.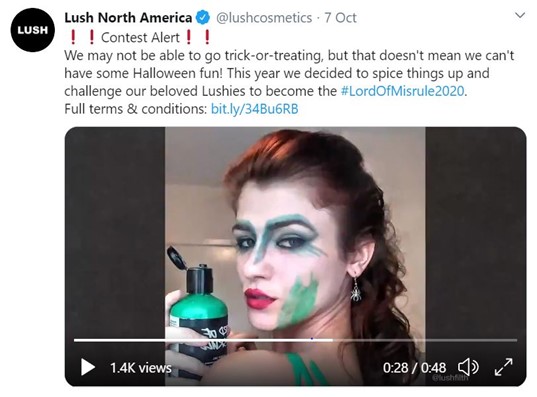 3. M&Ms:  You can't have a Halloween ad list without including the delicious bite size treat…M&Ms.
Their ads always showcase and simple and spooktacular ad fun for chocolate lovers of all ages. We love these ads because they showcase it's okay to be a little punny, have fun, and be authentic. 
4. Heineken: You can't have an ad list without listing at least one beer company. One beer ad that comes to mind is Heineken.
They use familiar Halloween characters to celebrate friendship and celebrating with Heineken. Even the most unlikely of characters come together for a Heineken in these ads. 
5) Lux: Nothing say Halloween like the classic hot girl thriller. Lux pulled this of wonderfully (and classically). 
In this ad Lux takes us thru some classic thrillers and twists. Why we like this ad? It's fun, exciting, draws you in and promotes the brand. They doo a good job of showcasing a classic product in a fun way. 
Look out for this exciting end. 
Looking to spice up your Fall and Halloween Campaigns? Check out our list of 90 Fall Themed marketing Taglines. 
Fill out the form below to get your copy.